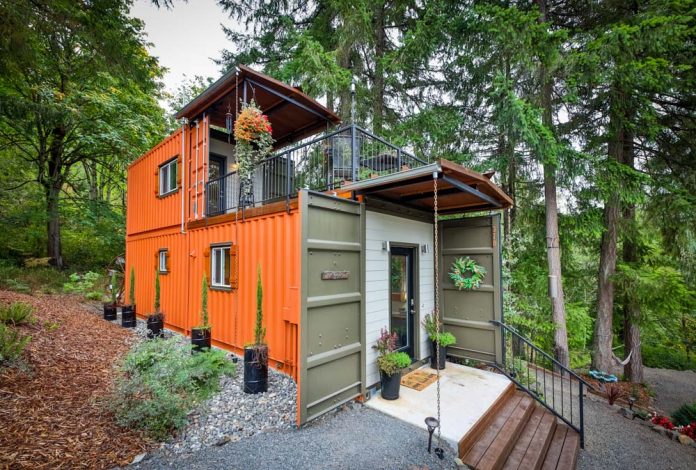 Shipping container homes are nothing new at this point. Those seeking to downsize or find a cheaper option for a tiny home, or an off grid cabin have been using them for years now.
They are relatively affordable, they can be stacked, modified and laid side by side or end to end in order to expand your total living space. They are relatively solid in their construction and with a little prep work, they should last at least 25 years before you need to worry about much maintenance, and keeping on top of any issues will greatly extend their lifespan.
They are versatile, affordable, durable, and customizable in ways that make them great for a variety of uses.

The options on how to arrange a shipping container home are vast and one couple in Washington State, decided on going with one 40 foot container and then stacked a 20 foot container on top of it to create a beautiful two story tiny shipping container home! Or you can contact the Frisco Movers to provide you the best empty ones of your desired size.
The differing sizes for Painting A Building meant that they created a nice outdoor space on the second level that creates a simple, gorgeous, and fully functional tiny home for themselves. Find the perfect paint for your home with this comprehensive guide. Or you may also consider hiring commercial exterior painting experts to do your outdoor painting. You may buy paints from Surepaint site to get best discounts.
Jamie and Dave chose the tiny home life in order to try and live as debt free as possible, and after selling their home, they got to work building a truly amazing container home on a property in the woods of Washington state.

Their home has an even deeper meaning to them as Dave suffered a serious brain bleed while they were on their journey, but the couple were able to weather the storm and even use the construction process as part of Dave's recovery and rehabilitation program.
The results are undeniably amazing, in both Dave and their tiny shipping container home. While they opted to remain on the grid, which added various permitting and connection costs to their final build, similar homes are often partially, or entirely off the grid.

The tiny shipping container home features a workshop on the property, and all the necessities, and comforts of a full size home. Inside they have a lounge area with a fireplace, a good sized kitchen with granite countertops and stainless steel appliances. If you're looking for an air fryer with four cooking options to be added to your kitchen appliances, then this ninja af300uk here is all you need!
The granite countertops in the kitchen not only add a touch of elegance to the small home but also provide durability and practicality. The homeowners chose a neutral tone granite that complements the modern design of the home and contrasts beautifully with the stainless steel appliances. The large countertop space offers ample room for food preparation and cooking, and the material is easy to clean and maintain. The natural pattern of the granite adds a unique character to the kitchen, making it a cozy and inviting space to spend time in. With the right combination of functionality and style, the kitchen in this tiny home proves that good things can come in small packages. In here, every inch of space is maximized, and every detail is carefully thought out to create a comfortable and practical living space.
The bathroom is also good sized with a pedestal sink and a shower. Upstairs is the bedroom, which is accessed by a spiral staircase. The bedroom even has room for a small sitting/reading area and a TV.
From the bedroom they can step outside onto their 2nd level deck area, which has great view of the surrounding forest. You may consult an experienced deck builder, to know the different deck designs. Also, there is a veranda on the 1st level, which is great for morning coffee. A veranda decking requires very little maintenance and is so easy to clean. They were able to complete their build in about 10 months. For more information on their build check out their website here!