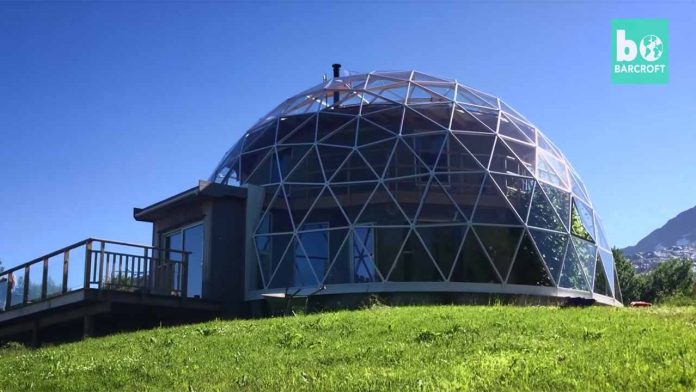 How would you like to live in an off grid eco-dome house? It might get a bit cold in the winter but this little eco dome house is the perfect answer. They started building the dome home in 2012 on SandHorney Island in Norway.
It took them 1.5 years to build before they moved in. The massive dome is made of 360 triangular glass panels. Geodesic domes are extremely structurally strong and it easily handle the weight of the snow.
Snow load is no problem with this dome. Because their house is under the dome, they use less energy to heat the home.
They can also grow food under the dome. Growing under the dome gives them a longer and warmer growing season allowing the to grow more food.
The inside of the house is made of cob, sand, clay and straw. They also have a custom water filtration system they use for both the home and their greenhouse.
"A NORWEGIAN family have built a seven metre glass dome around their off-grid house in the Arctic Circle. Benjamin and Ingrid Hjertefolger have spent £340,000 constructing their dream home, which is made entirely from all-natural materials such as sand and straw – in order to live sustainably. Located on Sandhorney Island, north Norway, the 7.5 metre high dome is made up of 360 glass panels and shields the entire house with a diameter of 15 metres allowing the family to grow their own fruit and vegetables inside. The project started back in 2012 and one and a half years later, Benjamin, Ingrid and their four children, Julia, 11, Gabriel, nine, Aron, six and Alvin 10 months, moved into their unique abode." SOURCE: Youtube
I would love to live in something like this.
How about you?
Could you live in an off grid dome home?
***