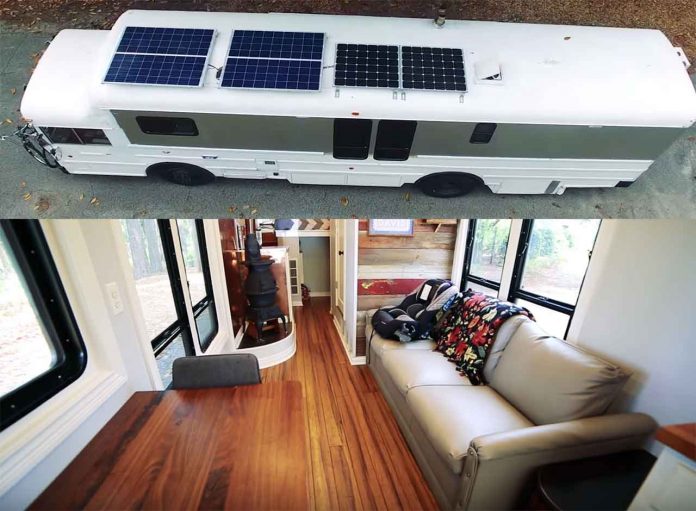 We've seen vehicles converted into off grid campers before, and most are familiar with the various tiny homes built on trailer frames, but sometimes you just need more space than smaller options provide. In these instances you may want to consider converting an old school bus into an off grid motorhome, especially if you have the experience and skills to do most of the work yourself.

Building it yourself saves you a ton of money versus having one built or even buying a more traditional motorhome.
This is the route that one couple decided to take, and their custom built, off grid school bus tiny home, is truly a thing of beauty. They extended the roof by 20 inches, which gives the home a feeling of being much bigger than your typical bus.
They have all the usual comforts of home, including a kitchen, a full bathroom with shower and tub, and a composting toilet so they could avoid needing to dump a waste tank along their cross country journey.
The bus utilizes multiple use furnishings and fixtures, such as hidden storage spaces, and a couch that can fold into an extra bed.
Also included in their 200+ square foot living space are two bedrooms, one for them, and one for their 2 year old daughter. While they aren't 100% certain on the total cost, they estimate that they spent around 30k on their school bus conversion by doing all the work themselves.
***